Building a house? Buying a house? Remodeling a house? Find the smart move for you.
There comes a time for many of us when our lives change and we find that our home doesn't quite fit our situation like it once did. Maybe it's because the family has grown. Or, maybe it's time to move in the other direction and downsize.
Whatever your situation, you have three choices. Building a house. Buying a house. Or renovating. Which one makes the most sense for you (and your money)? This guide will walk you through the ins and outs of each.
Building a house
Building a new house is often thought of as the most expensive of the three options. But don't be too quick to write it off. If you're buying a house, you may find there are renovations that it needs or you want. When you add those renovations onto the purchase price, you may find that building makes more sense. Take a look at some of the things you should consider when making your decision:
Pros
You can get exactly what you want - from the floor plan to the door knobs.
Your new home will most likely be more energy efficient than an older home since building a house allows you to take advantage of the latest technology. So your energy costs could be lower.
It's more likely that your maintenance costs will be lower initially compared to buying an older home. In fact, you may find that your homebuilder offers a limited warranty on the work. All of which means that you're less likely to be stuck with the cost of a furnace replacement or roof leak repairs.
Your home may be more attractive to buyers if you decide to sell in the future. When all else is equal, a newer home is usually more appealing than one that has more years of wear and tear on it.
Cons
It simply isn't as convenient as buying a move-in-ready home.
It normally takes about 7 months for a build. So you may need to figure out where to live and where to store your stuff between the time you have to move out of your current home or apartment and the time your new home is ready.
There is a lot to manage. Even after deciding on the land and the design, you'll find yourself having to choose everything from paint colors and countertops to cabinets and light fixtures (and more!) Be prepared for the amount of time this will take and the stress it can cause.
It's easy for costs to creep up during construction as you decide to upgrade items as you make all those decisions.
Financing
When building a house, the financing goes through two stages. In the first stage, you get a construction loan (usually for no longer than one year) to cover the costs of building the home. Your lender will work with you and your builder, ensuring there are detailed plans, a budget, and a timetable. Throughout the construction, your lender will release the funds needed for each phase. During this time, you normally pay only the interest on the loan monthly.
When the construction is complete, you move to the second stage where the short-term construction loan is turned into your longer-term home mortgage (typically range from 15-30 years).
There are a couple of things to watch out for:
There are a few other things to note. Since construction loans are so flexible, they can come with higher qualifying standards. It's not unusual to find requirements of at least a 680 credit score and 20% down. But talk to an experienced lender to get the requirements for you. He or she can walk you through the details so you'll know what to expect and when.
Become the boss of borrowing.
Money can help us do some pretty awesome things, like buy a house or a car (or a jet pack someday!) Get the Guide.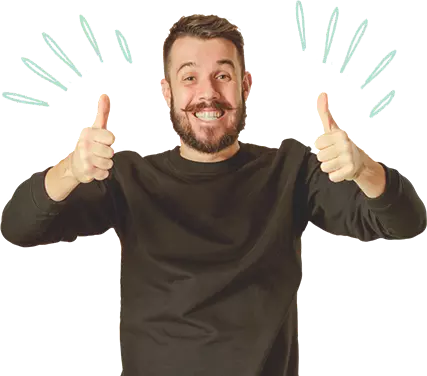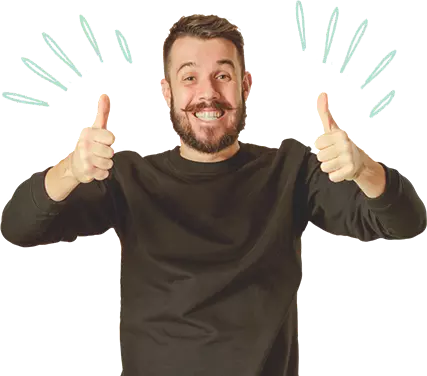 Buying a house
When you opt for buying a house, you may not get everything exactly as you want it, but you get the advantage of walking through the space and experiencing the house before you commit to buying. Plus, it's usually cheaper to buy than build, and you get the convenience of moving right in. Here are a few more things to consider when you're thinking of buying a house:
Pros
There is usually an opportunity to negotiate with the seller which means you could get a better deal.
Compared to building, many find buying to be less stressful.
You'll have more options on where you can buy vs. where you can build – especially as you look in areas closer to the city where there are houses already built on the vast majority of property.
Compared to building, you most likely won't have to wait years or spend thousands of dollars more to get fully grown trees and bushes in your yard.
Cons
There is a higher risk of maintenance issues with an existing home compared to a new build.
Older homes may lack modern day features like open floor plans.
No matter how move-in-ready the house is, there will most likely be things you'll want to remodel or upgrade – even simple things like painting will require extra time and money.
Compared to renovating your current home, moving everything to another house can be time-consuming. Not to mention expensive.
Financing
Lenders will want to look at your credit history and typically require a down payment between 5 and 20 percent, so talk to a loan officer. Additionally, you can choose terms to fit your situation. For example, you could choose a variable interest rate loan that could give you a lower payment initially or you may opt for the predictability of a fixed rate loan. There is also the length of the loan to consider. Here are three common types of home loans:
Conventional loan – this may be the most well-known type of mortgage. You can choose a variable or fixed rate and the length of the loan that's right for you.
Federal Housing Administration (FHA) loan – backed by the federal government, this loan typically has lower down payment requirements which makes it ideal for first-time homebuyers.
The Veterans Affairs (VA) loan – for active-duty military members and veterans, this loan requires no down payment and has low closing costs.
Your best bet is to consult with a lender that has a strong track record of helping people find the financing that is right for them.
Remodeling a house
Remodeling your home could be a way to get the best of both worlds – the advantages of not having to start from scratch with the ability to customize things to fit your situation. Before you jump right in, you'll need to decide if your house is worth investing in. Is it structurally sound (does it have good bones as they say)? If you're planning a good size renovation, you may want to pause to compare the cost with what it would take to move to another house – or even build in some cases. Plus you'll need to consider whether you'll be able to recover the investment you're making with the renovation if there's a chance that you'll sell your house in the future. Consider these pros and cons that can come with a remodeling project:
Pros
You already know what it's like to live in the space, so the renovations are likely to successfully address the issues you have with your current home.
The renovation may allow you to use the square footage in a better way, solving space issues or just making you feel like you have more room
If you really like your location, remodeling can be a way to get the home that's right for you without sacrificing your ideal location
When you renovate, you avoid the moving costs associated with building or buying a house.
The right renovations could improve the resale value of your home.
Cons
You may not be able to legally do the renovations you'd like depending on city regulations.
You may have to live in a construction zone while the renovations are being done – for anywhere from multiple weeks to many months.
Your improvements may raise the insurance and taxes on your house.
A remodel could raise your mortgage payment or lengthen your loan – or both.
It's not uncommon to uncover some surprises when renovating, leading to unexpected expenses.
A remodel can eat up your time and cause stress as you deal with multiple contractors and issues.
Financing
You have a few options for financing when it comes to your home improvement project. For more modest projects (for example, up to $20,000), you could get a home improvement loan. These allow you to get a loan with just your signature. To handle larger projects, you can use the value you've built up in your home (your equity) to help get the money you need:
Home equity line of credit – this loan allows you to borrow against the equity in your home but only take out the money you need as you go. This is especially efficient if you're doing your remodel in phases.
Cash out refinance – this allows you to borrow against the equity in your home by refinancing your mortgage and getting one lump sum. This is useful if you're doing a big project all at once.
A knowledgeable lender can help you evaluate your situation and recommend the financing that is right for you and your project.
Making the smart move
There is a lot to think about whether you're building, buying, or remodeling. But getting to the home that's right for you doesn't have to be overwhelming. Consider these three steps:
Prioritize what's important to you – if customization is a top priority, you may want to look at a new build or a remodel. If convenience is high on your list, buying an existing home may be the right way to go. Think through the things that are important to you. Write them down and prioritize them. It can help you decide which option best fits your situation.
Evaluate the pros and cons of each of your options - after you prioritize, look at which options you would consider. Build? Buy? Remodel? All three? Walk through the pros and cons and decide which would result in more pros than cons for you.
Find a lender that has the knowledge and experience to help you work through your situation – don't underestimate the value this. A good lending partner will have amassed a lot of experience working with all kinds of different situations. You can tap into that experience to help you make a smart decision.
With some thoughtful evaluation and some seasoned advice, it will become clear the option and financing that's optimal. And you'll find yourself moving one step closer to getting to that home that's right for you.